Home improvement
When Functionality Meets Beauty – Maximise Your Home's Kerb Appeal With These Driveway Ideas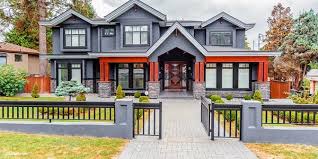 First impressions are everything, especially in real estate, and as a homeowner, there's so much you can do to enhance your home's kerb appeal. Whether it is to welcome guests, boost your home's appearance or attract potential buyers, an eye-catching driveway is a must-have for any homeowner. Below are some excellent driveway ideas you can use to maximise kerb appeal:
Use Varied Materials for Your Driveway 
Your driveway design begins with choosing the best material. The driveway material you choose should be functional (able to withstand both human and vehicle traffic) and aesthetically pleasing, matching your home's architectural design. You can also explore a combination of multiple materials to obtain a more custom and sophisticated entrance. 
Use Driveway Pavers
Most homeowners love the look pavers give to driveways. These pavers may be made from concrete, brick or cobblestone. They also come in a variety of shades that can be customised to accentuate your property's existing colour scheme. Professionals pavers such as Kane Construction will be able to advise on how to achieve your desired affect. One benefit of pavers is durability as materials like cobblestone, granite, and blue stone can last for several years.
Keep Your Driveway Clean and Tidy
The exterior of your property should always be clean and tidy. Find space for your wheelie bins to avoid making your home's exterior untidy and rough. Sweep leaves and keep patios jet-washed. After kids play on your front lawn, ensure that all their outdoor toys are removed and out of sight.
Add Potted Plants
Plants can breathe more life into a space, giving off the impression that it is lived-in or well-cared for. Grouping varying heights of annuals and perennials at both sides of your driveway can make a bold statement for your home's kerb appeal.
Light up Your Exterior 
A good exterior lighting selection can make a huge difference in the appearance of your house at night. If your home has a long driveway, consider installing pillar lights to decorate and illuminate the way. A few varieties of lighting are solar powered, meaning they do not require hard wiring and, thus, can be installed easily and quickly. Having lights around your front door can be both practical and attractive. Make sure that your previous fittings aren't dirty or rusty and then flood up your driveway with lights to create a dramatic effect at night.
Consider Adding a Gate
There are various kinds of driveway gates you can install to welcome visitors to your home. A wrought-iron lattice or rustic country wood can be a good choice. Whatever you ultimately pick, having a gated driveway is an asset to your home. As well as providing your home with additional security and privacy, gates add a sense of seriousness and gravitas to your property. Be sure to keep wooden gates well-maintained by polishing them with fresh paint and metal gates clean, rust-free and polished.
Create a Border to set Your Driveway Apart From the Outdoor Space 
This is known as driveway edging. Driveway edging is not necessary, but it can add more attractiveness to your driveway. It is also practical since it can protect your driveway from any potential chipping or cracking.
Driveways edging can be done with brick, stone pavers, or grass, and the edging design you go for should depend on your home's architectural design and preference. 
Read Also : Top Reasons why you Shouldn't DIY Your Basement Waterproofing
Conclusion:
Let your driveways woo guests and leave a lasting impression on potential buyers. Above are some of the ideas you can use to effectively give your driveways that much-needed facelift.