The word lingerie is originally from French language. Informal usage indicates visually appealing clothing for women. That explains why words like sexy and alluring pop in our minds when we think of this word. Indeed, as a way to express feminine beauty, lingerie is often sexy. Yet, many women would prefer kawaii lingerie for a change. Lingerie doesn't have to be sexy. Cute styles like Lolita lingerie from Risettelingerie can boost your beauty.
As intimate items for your body, you should carefully choose what you wear. Unlike the coats or pants that everybody can see, lingerie is what makes you feel good. The right lingerie, whether for daily use or special occasions, will give a good mood. Failing to pick good lingerie might be a disaster sometimes.
How can you choose the right kawaii lingerie for yourself? You'll be feeling overwhelming because there're so many options available. They come in different sizes, designs, and materials and are all in various colors. Here are some tips for you to select kawaii lingerie.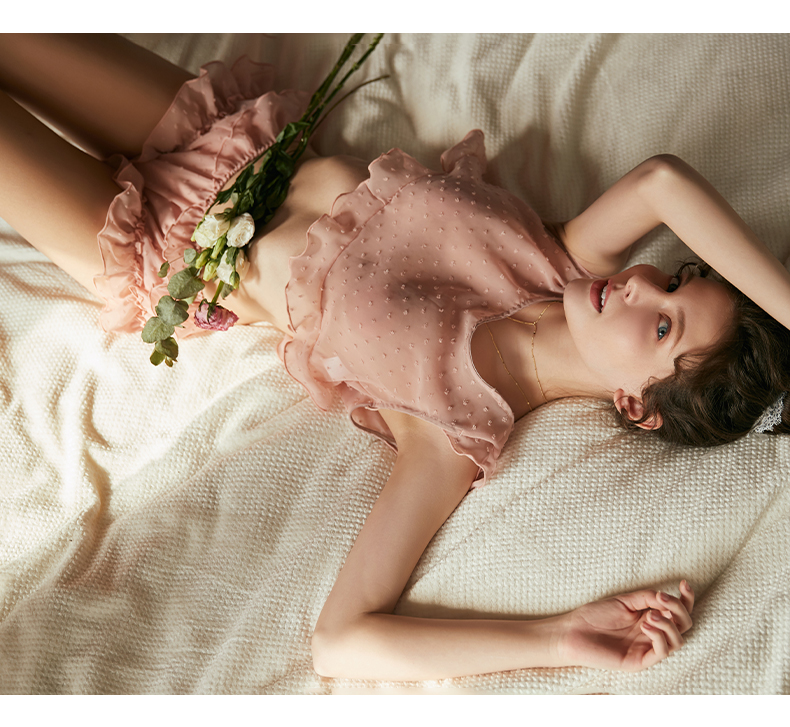 Choose kawaii lingerie based on your figures
Body type is a tricky issue. You may have the same size as another woman. But you may have to choose different lingerie because you have different body types.
Pear-shaped body type: It's like a triangle. Women of this type of figure have narrow shoulders, small-sized busts, and thick hips. The keyword of choosing kawaii lingerie is balancement. It means that you make the hips look smaller, make the shoulders and breasts seem thicker. Your body proportion will be much better by doing that. The recommended set of kawaii lingerie would be a push-up bra, and briefs or hipsters. You should go with panties with a thick waistband or high waist.
Hourglass-shaped body type: As the name says it, this type of body consists of equally wide shoulders and hips, and a smaller waist. This type of figure is what most females' dream body type. Any type of lingerie will look good on it. You have the curves to show off with a garter belt on.
Rectangular-shaped body type: It is called athletic body type. It's hard to notice the waistline with such a body type. So kawaii lingerie that adds curves to your body will be good. The corset is a good pick to help create an illusion of a waistline.
Petite type: Petite-typed women are small-sized. They have a shorter frame and slim figures. To be honest, this kind of body type goes perfectly with kawaii lingerie. Kawaii lingerie with deep necklines and high cuts makes legs seem longer. Because it gives an illusion of an elongated body.
Pick kawaii lingerie that highlights your assets
Picking kawaii lingerie by body figures is like trying to hide the shortcomings of the body. Through that, you can focus on the strong points to enhance your beauty and boost your confidence. It's all about keeping a balance between the upper part and the lower part to create a good image as a whole. However, some women have a body that's uncategorized. For instance, petite-typed women may have a thick bottom. So instead of hiding something, you can highlight something else.
If you have rounded busts, bandeaus can give them enough support and leverage to your curves. Be proud to show them off with a push-up style. Or you can try high-waist underwear or panties with thicker bands to draw attention out of the busts.
If you have a big bottom, a G-string or thong can enhance your curves. Panties with a high waist or boy shorts will look good too.
Select Lolita lingerie of high quality
You get what you pay for. That is the same with lingerie. Good-quality lingerie is often more expensive. But it is worth the money. High quality means they use better fabrics, fashionable style, and comfortable design. You know some low-quality clothes use materials that may lead to allergies. Some even cause serious diseases.
High-quality lingerie shows your style and taste. It gives you better experience. Besides, you can feel more comfortable about yourself. Also, you can be more attractive in front of your boyfriend or husband.
Choose lingerie for various occasions
As kawaii lingerie comes in all kinds and styles, each of them has a specific purpose. Some are for weddings only while others are for daily use. Some go well with nightgowns, while others go well with dresses.
For everyday use, some basic kinds of kawaii lingerie are good. If you feel like it's a bit plain, choose kawaii lingerie with black laces. You can wear such kind of lingerie on workdays.
When you're going to work out in the gym or jogging outside your house, a sports bra is what you need. Sports bras give enough support to the busts while you're exercising.
For some important occasions, you can choose some kawaii lingerie based on your needs. Kawaii lingerie goes well with a wedding gown. And for Valentine's Day, if you have special plans, kawaii lingerie will spice things up.
You may want to have a change or try something exotic from Asia.
As a big fan of cosplay, you find maid lingerie and sexy cat lingerie attractive. You can buy some for casual use as well.
Signs that you're wearing the wrong lingerie
Sometimes you may suspect that your lingerie is not suitable for you. That often happens when you shop online. Well, several signs can tell you that your lingerie is not suitable for you.
You feel weird wearing sexy lingerie. Or your husband doesn't like it when you wear sexy lingerie. Thus you know it's wrong. Kawaii lingerie might be a solution.
When you have to readjust your bra from time to time, try higher-coverage pieces.
When you often get awkward wedgies or bulging, change your panties for some high-rise ones.
When you feel itching or pinching sleeping in your lingerie, try some softer fabrics.
In conclusion, if you feel uncomfortable with your lingerie, it is the wrong lingerie for you. Styles and other factors are important. Yet, more women pay attention to comfort and quality when it comes to kawaii lingerie. It is a good thing. Choosing high-quality lingerie based on her body type and her personal needs is how it should be. We hope these tips can help you select suitable lingerie for you.