Jewellery
Top 5 Miami Cuban Link Bracelets Made To Fit Perfectly On Your Wrist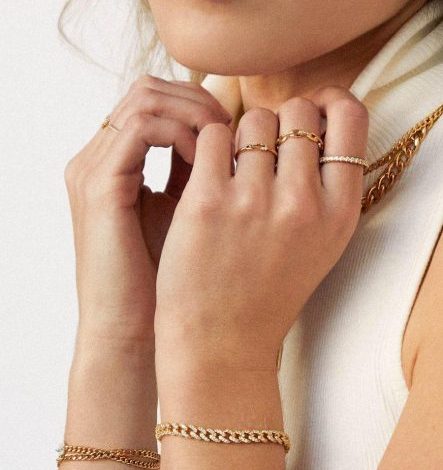 Cuban link bracelets and necklaces are among the more popular statement-style jewelry out there and will look wonderful on anyone. The reason behind this look is their intricate design of multiple closely linked gold segments that create a wave that seems to go around your neck, representing a continuous look and feel. The same is true when wearing them as bracelets, as with each movement, the bracelets seem to flow with your hand like an ever-flowing river. So, what are the top 5 best-looking Miami Cuban link bracelets that can go well with the most outfit and your style? Let's find out, readers.
1.
Rhinestones Gold Plated Bracelets:
Diamond these days is too expensive for an ordinary working-class shopper to buy coupled with gold chains in the Cuban link bracelet. Clear rhinestones are the best man-made manufactured diamond look-alike that their glitter and shine surpass even diamond sometimes. Combining this with gold plating or even gold, it is a match made in heaven with a fraction of the cost if you got fitted with diamonds.
You can get rhinestones with both pure gold and silver as they look fabulous with both and are perfect for any sex to make a statement. You can buy them for your spouse or friend as a gift to show love and how much you care.
2.
Curb Chain Miami Cuban Bracelet:
This Rose gold Bracelet is so well made that it looks like one of the thinnest chains you would have ever seen and gives off a professionally polished sheen. This bracelet is only 9 mm wide while weighing only 16g. This Cuban link bracelet is available in all white, yellow, and rose gold metal and can be tailored on request according to your wrist.
The slimmest of thickness makes it perfect statement jewelry for women who prefer flashy but lighter things. For men, it can be stacked with plain chains and other bracelets as a focal piece.
3.
Bling Bling New York Stainless Steel Bracelet:
The silver finish Cuban link bracelet is the perfect accessory for those who love wearing these bracelets but don't want to represent them as a statement accessory. The stainless steel bracelet is a strong and sturdy piece of metalwork art that gives weight to your style and is a good companion to your strong wrist. Stainless steel is good corrosion and rust-resistant metal and gives you a great grip due to its closely woven chains.
The unique part about this chain is that it will turn you into a stylish man full of surprises. You can always stack it with smaller chains to enhance its looks.
4.
Harlem Bling with Lab Diamonds and Stainless-Steel Metal:
This Cuban chain link style is completely iced out with miniature diamonds like icing on the cake. The metal is stainless steel while plated with 14K gold, making it a perfect combination of beauty and statement but having longevity.
This Cuban link chain is worth investing every penny on and works amazingly with any woman's dress when partying in the evening. Why should you look any less beautiful than others at dinners? But don't make a habit of wearing it almost anywhere. Please keep it for special occasions when spending time out with your spouse to make him feel special.
Also Read: Top Tips for Choosing Right Fashion Accessories
5.
Gold ID 2 Carat
Diamond
Cuban Link Bracelet:
If you are really going to make a statement, then go out with a bang. This Miami Cuban Link bracelet has chain links made from white gold with a 14K gold ID plate laced with amazingly luxurious white and round diamonds making the biggest statement on our list. This chain-link is accentuated with a swirl for the best and close-fitting as you won't feel a thing even when making such a big statement.
This bracelet is 100mm in width, which you can get made with custom design and metal that can go with most looks at evening dinner parties to enhance your look beyond what others can imagine.
.
Best Statement Looks with Cuban Link Bracelets:
Even though they are intricately woven chains brought together in the most surreal way to give them their style, their primary purpose is to make a statement. You can modify the best statements by changing metals that would change their statement slightly.
Being Inconspicuous – You don't want anyone to know that you know that they are noticing you, and you can do it best by wearing white gold bracelets. Its attraction can confuse the onlookers because it shines like pure polished gold and looks like a silver bracelet. Own the look of a mysterious accessory.
Sophistication – If you want to carry your unique look and seem sophisticated, wear rose gold Cuban link bracelets that will go best with your mood.
Classic Flashy Look – Nothing can go wrong with the yellow gold as it is timeless and will give your personality a flashy aura.
Choosing Solid Gold – No matter what metal you choose in the end, all metals are sturdy due to the design philosophy behind Miami Cuban link bracelets, and they can be tailored to fit perfectly on your wrist.
Wear What You Love – Don't follow trends blindly; go for the metal and color with which you feel a resonance while also enjoying wearing them. After all, the purpose of wearing an accessory is not only making a statement; you should look good but, most importantly, you should feel good too.
Conclusion:
If you are looking for the bracelet link styles type of Cuban chain links, you have come to the right place. We provide the best quality Miami Cuban chain links at the best prices. The most important thing you should remember when buying here is that you can choose and design your unique look while in direct communication with our staff every step of the way. These Miami Cuban link bracelets started making a comeback two years ago and now have grown into a full-fledged fashion.
.