Education
What is Diwali, and how is it celebrated?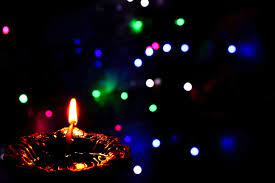 What is Diwali & how do people celebrate it?
Diwali popularly known as the Festival of Lights stands true to its name. People celebrate this festival regardless of their religion or caste as it brightens up the spirit in every home. It is a wonderful time of the year to celebrate the victory of light over dark and good over evil. The glowing light of the oil lamps (Diya) signifies how light prevails over darkness and eradicates negative energies. Houses well-lit with Diyas and decorated with traditional flowers are a sight to behold.
Significance of Diwali
Occurring in the month of Kartik, Diwali invites the presence of Maa Laxmi to the home. It is not just spiritually important but also the happiest time of the year for many. Every Indian celebrate the Festival of Diwali irrespective of their condition, status & caste. It is a 5-day long festival starting from the Ekadashi of Ashwin month till the Dwitiya of Kartik month according to the Hindu calendar. While some believe that Diwali marks the return of Lord Rama to Ayodhya after 14 years of exile, some say it celebrates Lord Krishna's victory over the demon Narakasura. There are various folk tales associated with Diwali but it majorly represents the winning of good over evil.
Vasu Baras
People consider cows as mothers & therefore worship & feed them on the first day of Diwali also called Vasu Baras. It also relates with the Samudra Manthan when Kamadhenu emerged during the iconic scene of churning the Kshirsagar. People also know it as Govatsa Dwadashi and Nandini Vrat.
Dhanteras
Dhanteras is the second day where people light Diyas at the entrance and inside the house. People consider this day as very auspicious & therefore purchase vehicles, homes, jewelry, etc. Some also worship Lord Dhanvantri, the God of health and healing. Dhanteras brings an abundance of wealth and riches to the home.
Chhoti Diwali / Narak Chaturdashi
Narak Chaturdashi begins with performing Abhyang Snaan, a ritualistic bath with sesame oil and Ubtan. People say that the one who does Abhyang Snaan on Narak Chaturdashi does not go to Narak (hell) after death. There is a special Muhurat for this which is usually early in the morning. One must get up early and take a bath after applying Ubtan on the body. It leaves a lovely scent on the body that specifically indicates the entire Diwali festive vibe. 
Laxmi Pujan
People follow the ritual of worshipping Goddess Laxmi in the evening known as Laxmi puja. Goddess Laxmi brings new opportunities and prospects in the life of Her devotees. On this day, people conduct Laxmi puja at home and office and keep their doors open to welcome the Goddess of wealth. People decorate & clean each household & lit Diyas to please Maa Laxmi.
Also Read: Decorate your home with floral rug design
Bhai Duj
Bhai Duj calls in for a lot of gifts, family gatherings, long talks, pictures, delicious food, and all the fun among brothers and their sisters. It celebrates the beautiful relationship between a brother and his sister. To anticipate this love, both brother and sister gift each other anything of their choice.
How do People celebrate Diwali?
Diwali brings lights, firecrackers, sweets, special festive delicacies, gifts, new clothes and so much more. It is celebrated across the world majorly by the Hindu community. The preparations begin right from cleaning the whole house, removing the old/broken items, and revamping the home. Special festive delights aka "Faraal" such as Chakli, Besan Laddoo, Sev, Shankarpale, etc., and other items are prepared at home. Ideally, it is auspicious to wear new clothes on Diwali and celebrate the wonderful festival. Each nook and corner of the city is lit up and Rangolis are made outside houses, apartments, etc. Friends and relatives visit each other's houses and exchange homemade sweets & snacks. Firecrackers are lit and everyone enjoys the mesmerizing sight of bursting crackers in the sky together.
Diwali Poojan
Set up the Puja altar in such a way that your face is towards the North direction.

Place Laxmi Ganesh Clay idols on the altar (the idols should be new and unused)

Begin offering Kumkum (Vermillion), Haldi (Turmeric), and Akshat (unbroken rice grains) to the idols.

Offer fresh flowers and chant the Laxmi mantra.

Ask for wish fulfillment to Goddess Laxmi and Lord Ganesha after the mantra chanting.

Perform Aarti of both the deities and offer the sweets prepared at home.
A very happy and safe Diwali to you and your loved ones! 
May this festival bring to light, happiness, and abundant wealth to you!