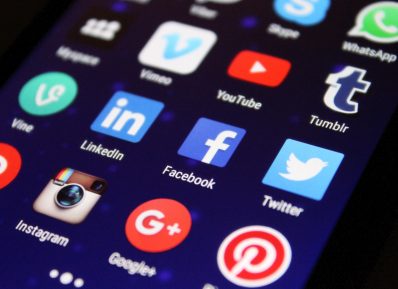 he recent statistics about the power of social media are a lot like shouting from a megaphone in the middle of your office, "Advertising on social media is on fire, people! This is how we can increase sales, so let's get crackin'!"
Today alone, approximately seven out of ten Americans will use their social media profiles to connect, engage, share information, and find something to enjoy.
The typical American possesses approximately 7.1 social media accounts. Not only that, but in exposure for your brand and for your business, 93% of all marketers believe this to be the primary benefit of social media marketing.
If you are looking for a cost-effective way to boost sales, you need to market on social media, but you also need to do so strategically.
How do you get the most bang for your buck when advertising on social media? Here are the basics that will help you make a big splash from the get-go.
Choose the Type of Social Media Ad
First, when advertising on social media, it is important to understand that each platform has different demographics. You will want to know which platforms your target audience prefers using. Pew Research offers great insight into each platform's demographics to help you.
For instance, if you are targeting moms, Facebook is probably your best bet. If you are looking to get the attention of teenagers, TikTok marketing is a good recommendation.
Depending on which platform you choose, you want to tailor your social media marketing strategy to that one in particular.
Facebook Advertisements
You can achieve brand awareness, send traffic to your website, encourage video views, and convert leads all with Facebook ads. Facebook boasts many active users from a variety of demographics.
Since they have such a big audience, they offer helpful, detailed targeting options. You can direct traffic to your website to complete your CTA or you can direct them to your Facebook Business Page to follow you.
They even have an option for a short, looping video clip with their paid advertisements. Another cool feature is messenger ads that will appear in the chat tab between conversations.
Instagram Advertisements
It probably comes as no surprise that Instagram offers the same objectives as Facebook does. Their audience is largely millennials, although Gen Xers and Generation Z use Instagram, too.
Instagram also has options to customize your audience. You can create a "lookalike" audience. This means you can define the audience's interests, demographics, behaviors, and activities.
There are four specific ad types, which are the same ones that Facebook has. These include photos, videos, collections, and carousels. You can place the ad in the main IG feed or in Instagram Stories.
TikTok Advertisements
You can work toward getting traffic, increasing your global reach, and converting while advertising on TikTok. Although, it is important to know that only certain regions make TikTok advertisements available.
Depending on where you want to target your TikTok marketing, some places only let you reach them with organic content, or at least that is for now, as regulations continually change.
Businesses only get one self-serve option too, which is in-feed video. As the advertiser, you can choose to display a video or image, but the ad will appear in the "For You" feed of the user. Just like the user-generated content, the ad will always appear on full-screen.
Your ad will display for nine seconds. After that, a card will appear. It has the profile name for your brand and your display name, along with text and a call-to-action button.
The best TikTok ads that run often will refresh their creative content each week. This helps to avoid advertisement fatigue and boost your ROI.
Read Also: ICANotes EHR or FreeMED EMR- which is a better decision for your practice?
Twitter Advertisements
There are a few business objectives you can achieve via Twitter ads. They can help with video views, web traffic, followers, engagement, brand awareness, and conversion.
It is important to know that Twitter's audience is two-thirds male.
You can set up paid ads in your Twitter Ads campaign and select your marketing objective. You can choose from an existing organic Twitter post that you have and promote it, or create something new that is specifically an ad.
LinkedIn Advertisements
A much more business-oriented platform, you can drill down to job titles and seniority levels when targeting your audience. LinkedIn ads let you collect leads, drive website conversions, encourage video views, and create brand awareness.
There are a few types of ads to choose from on LinkedIn, including Sponsored Content advertisements. This will appear in the new feed, both for mobile devices and on a desktop.
Also, there is "Sponsored InMail." This is a lot like email marketing. It goes straight to a LinkedIn user's profile inbox.
What is unique about Sponsored InMail is that a user will only receive your advertisement message when they are active on the platform. This is a tremendous benefit, as your message is not sitting around in a black hole, going stale.
The Cost of Advertising on Social Media
A pleasant feature of social media marketing is that you can choose your budget, no matter if you wish to allocate only $5 or a million dollars. Most social networks sell their ads in an auction format. You could select a budget per day or a maximum bid per click.
You will usually see a recommended bid price. Depending on your goal, you can pay in one of the following methods:
Cost per conversion

Cost per click or CPC

Cost per video view

Cost per CPM or 1,000 impressions
There are other factors that a platform can consider with how much you will pay. This can include your campaign objective, the country you are targeting, the quality of your ad, the time of day, and more.
Social Media Marketing Tips
Before you set up your next social media advertising campaign, first determine what exactly your objective is. This will help guide you through a lot of the processes and decisions you will need to make. Not to mention the type of creative content you need to create too.
Take into consideration your target audience. This will determine both what platform you use and if the platform lets you home in on your target. When you can select your audience, you can pare down who sees your ad.
If you are planning to pay for ads, you likely already have a lot of organic content out there. What is performing the best? Do a little research.
Based on what organic content is resonating the best, this will help you create a paid ad that performs well too.
Think about what matters most to you, clicks or impressions. This will help you select the type of ad that is best for the content you are sharing.
Last, keep in mind that over half of all internet web traffic is from a mobile device, so you want your creative content to be mobile-friendly.
Boost Your Brand and Increase Sales by Advertising on Social Media
When it comes to your brand image, you don't want to be left behind or seen as outdated. It often pays to be the cool kid on the block. So, if you are not advertising on social media, you really need to get crackin.'
If you want more superb advice on what's new and great in the world of business and advertising, we have the timely tips you need for success! So, stay with us, don't leave just yet. Keep clicking on our articles, but grab a pen and paper first.