Life Style
Removing water stains and rings from wooden furniture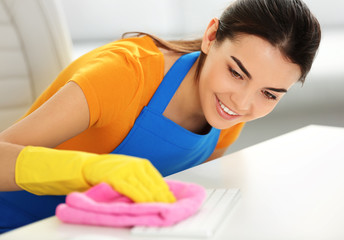 There is a reason that wood has been used for many years to make beautiful furniture and home decor. It offers warmth and comfort that you don't get with other materials. If your home looks cold and dingy, wooden items can transform the space and make it feel warmer. Many studies have shown that wood has a calming effect on the people around it. It can also reduce stress and lower blood pressure.
Because of these benefits, you need to protect your wood furniture to make it last for many years. If a family member or guest puts a cup or glass on your surface, you may worry that it will leave stains. You may even already have stains that you have covered with tablecloths or accessories. It may seem like these stains will always be there, but there are ways to remove them. With the right tools, you can remove water stains and restore the wood to its original appearance.
Understanding White and Dark Water Stains
If you see water stains on your wood furniture, it's because moisture has penetrated the protective layer. To properly repair the damage that has occurred, you must first determine its severity. Take a closer look at the stain and you will notice if it is white or dark. These shades indicate the depth of moisture penetration into the wood.
You may be dealing with several water stains or just one that affects the appearance of your furniture. If they are white water spots, the precipitation has only reached the top layer of the furniture, which is at the very top. If you have darker, brown, or black water stains, the moisture has penetrated the wood. You can use the tips below to remove lighter stains, as no permanent damage has been done yet. But dull lines and circles are not easy to remove. They require more effort and possibly the work of a professional.
How to remove water stains from wood furniture?
Before you buy a new product to remove water rings from wood, try these methods first.
Ironing clothes
Ironing not only removes wrinkles and shrinkage but also makes your clothes look fresher than before. You may not think of using it in other rooms of your house, but now you can. It's good for removing water stains, as long as you're careful about the temperature. First, wash and dry your furniture with a soft cloth. Then check that there is no water on the iron.
Once you see that the iron is dry, plug it in to heat up. Therefore, place a towel or cotton cloth over the soiled area and run the iron over this material. After a minute, you can look under the iron to see the result. Repeat this process until the stain is gone.
Baking Soda
Baking soda is an inexpensive cleaning and deodorizing agent that can work wonders in the home. It is well known in most homes and is the first remedy most people turn to when they have problems. When it comes to removing standing water stains, baking soda can be the best choice. Mix it with water to make a paste and gently rub the stain with a cloth. Keep rubbing until you see that the stain is gone.
With this method, rub along the grain so as not to cause further damage. Remember to wipe the paste off at the end and apply a drop of furniture polish to restore the shine.
Toothpaste
Toothpaste is the gentle, abrasive part of your daily plaque removal routine. The same rough action is great for removing scratches and stains on everything from jewelry to shoes to sinks and countertops. In addition to these products, you can also use toothpaste to remove water spots. Use a soft cloth to gently apply the unfrozen toothpaste to the furniture. With small circular motions, you will see the stain lighten and then disappear.
If you have to hurry or if you have many stains, you may be tempted to rub the damaged areas more. However, this could damage the protective layer. Remember, a gentle technique can be very effective.
Read Also : House cleaners in bowie md
Mayonnaise
Mayonnaise can usually end up on the table by accident, but now you're going to smear it on purpose. Although mayonnaise brushing is a non-traditional approach, many people report effective results when using this method. If you use a full-fat dressing, you should get the same results. First, put mayonnaise on a towel and blot the stain with it. Unlike the other methods, this one takes much longer and should be used overnight. Place a bowl or blanket over the stain to prevent any family members from wiping the stain.
After the night, you should have a stain-free area with a wonderful shine. The main ingredients – vinegar, eggs, oil, and lemon juice – nourish the wood and improve its appearance.
Keeping your home beautiful and clean
Even if you have coasters for friends and relatives, they may put their drinks on your wooden furniture. Instead of letting this ruin your day, you can remove water stains to keep your home looking great.
If you're struggling to keep your home clean, you can contact our Clean Couches Sydney team right now. You want to have a tidy home, but you can't handle the cleaning because of your busy schedule. Fortunately, you can count on our professional and knowledgeable team to provide excellent cleaning results. We can transform the look of your home while you pursue your goals and enjoy life. Use our online form today to book our weekly, bi-weekly or monthly services. We know you'll be pleased with the results.