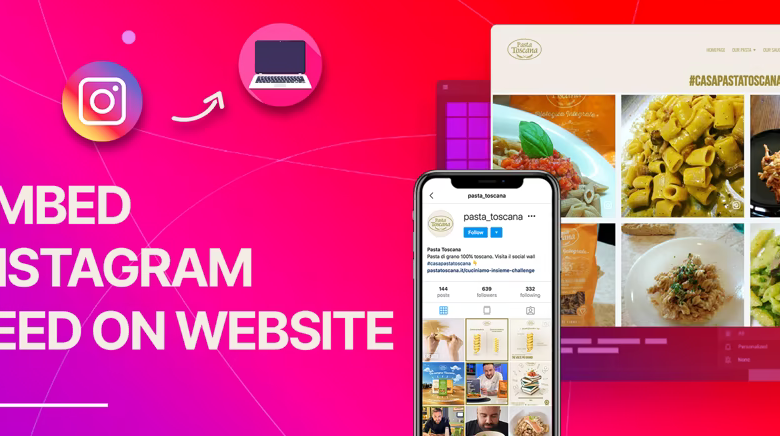 Today marketing and its strategies have taken an altogether different platform. With technology running at the speed of light, management of the marketing world and promotion of websites too have changed like never before.  Who knew that social media would be mediating between the consumers and retailers. It has taken over a large portion of the market now.
With the increasing popularity of social media platforms, no doubt Instagram has managed to make a firm place in the race. With 1.3 billion active users, Instagram has taken precedence. From being just a social media platform, Instagram has now become a major e-commerce network too. 
Because of the active engagements and increasing traffic on Instagram, websites have started embedding it on their web. This embedding of the Instagram widget on your websites will work wonders.
Below are some of the advantages of embedding an Instagram Widget on the website. 
BENEFITS OF EMBEDDING INSTAGRAM WIDGET ON YOUR WEBSITE
Escalates Brand Awareness And Traffic 
By embedding the Instagram widget on your website, visitors see not only the content on your web but also your Instagram feed. By this, if they like your website, they will follow your Instagram account as well. 
This has a dual effect. By following your Instagram page and by visiting your web, your brand awareness and engagement will increase. Customers would be attracted to your page and would aid in capturing more audience. 
Makes Your Website Look Vibrant 
Just having an Instagram widget on your website might work but the cherry on the top would be if this feed is customized. 
With different customization options available and by altering the traditional boring feed into an attractive one, your website would look vigorous. 
Instagram feed throws the dull, simple-looking website and helps in turning it into an eye-catching web thereby, giving an increase in engagement and traffic. 
Constructs Social Proof 
By embedding the Instagram feed and promoting the UGC-driven posts, customers get a more diverse idea about your brand. UGC helps in building social proof thereby enhancing brand loyalty and increasing the sales and promotion of the brand or association. 
As UGC is one of the most authentic and genuine forms of content, promotion of this on your web via Instagram would help in gaining the faith of your visitors. 
Surges Engagement 
Since your web would look more enticing and eye-catching by embedding the Instagram feed, visitors will be on your web for a long time. Therefore, this dwells up an overall time of visiting the page. This will help in increasing the engagement for your web. 
Although Instagram feeds consisting of images, videos, reviews, and whatnot would force visitors to sit on their couch potatoes and give more time to exploring your web like never before. 
Shoots Up Sales And Conversions 
An innovative web made by embedding Instagram not only helps in increasing traffic and engagements but also upscales your brand's sales and conversions.
An attractive web gets more attention from its visitors. While many visitors may not put many brains into the commerce side of the site. However, many others get compelled to make a purchase. 
This advanced way of getting more purchases from visitors has helped a lot in increasing the sales and conversions of the brands. This unique way of sales and purchases has taken an altogether different turn in the world of e-commerce. 
Gets Your Attendees Engaged 
Instagram is a powerful social media platform that caters to billions of users. A place wherein you can find memes, images, videos, reviews. Brand promotions, and whatnot, Instagram is like a one-stop destination for entertainment and engagement for its users. 
By embedding an Instagram feed on your website, visitors would not only spend much time on your web. Also would avoid visiting other pages as an Instagram feed would make your website engaging and different from all those boring ones with simple tools and written texts with simple images. 
Not only do your Instagram page get a good wide promotion overall but also your website. With promotion and engagement overall, the popularity of your brand gets a next-level promotion. 
Conclusion 
From giving an overall amazing experience to your customers and visitors to improvising the all-around representation. The web, embedding an Instagram feed does it all. It increases brand visibility and awareness too. When people visit your website they would go through Instagram as well. 
Word of mouth publicity would also take place. 
From the above details, by now you would've made out how beneficial and important it is to embed an Instagram widget on your website. If you're a brand and have not done this yet, you're surely missing out on an amazing opportunity to not only increase your brand awareness and promotion but also the total increase in your sales and commerce. 
Rest the choice is yours!