Travel
Tropical Reef Paradise Scuba Diving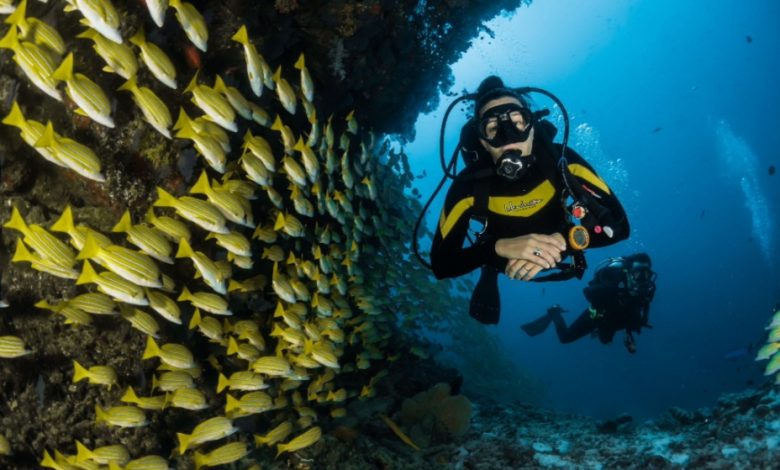 Captain Cook Cruises Dive Experience
Welcome to the best scuba diving experience in the world – a tropical reef paradise is waiting for you, and many leading companies have everything you need to make your dive unforgettable. With experienced captains that will take you to the most beautiful and secluded reefs and expert dive staff that will make sure that you have a safe and enjoyable dive, there are memories to be created in the stunning location of Fiji.
When Diving Fiji, you will experience some of the most diverse and abundant marine life in the world. With crystal clear water visibility that often exceeds 30 meters, you'll be able to see an array of brightly coloured corals and fish. You may even be lucky enough to swim with turtles, manta rays and sharks.
If you're accustomed to diving in Australia or New Zealand, why else should you consider going farther afield? For one thing, Fiji is renowned for its soft corals. These provide an amazing display of colours and diversity that you won't find in many other places.
Another big attraction of diving in Fiji is the chance to explore several World War II wrecks. As you may know, the region was an important strategic location during the war, and as a result, many shipwrecks are lying on the sea floor.
Read Also : Doctors That Thought They Were Above The Law
Diving Packages and Courses
Additionally, you'll also find world-class diving facilities in Fiji. Many resorts offer comprehensive diving packages that include everything from beginner's courses to live-aboard excursions. Depending on the cruise, package, or course, you could explore some of the most popular dive sites in the world, including Yasawa Island, Marnanuca, Kadavu, and Lau Group. Elsewhere, you can spend time on Tivua Island or diving with sharks.
As you can see, Fiji tends to offer something for everyone. So, if you're looking for a tropical getaway with some world-class diving thrown in, then Fiji is the place for you.
What if you've never been diving before? You might feel nervous about taking the plunge, but there's no need to worry. Choose the right company and you will get experienced and qualified instructors who will help you every step of the way – they will talk you through the process and ensure that you're comfortable before taking you out into the open water.
For example, you might choose a day trip for beginners where the trip is adapted based on your experience level. This means that you won't be thrown in at the deep end, so to speak, and you'll be able to take your time getting used to the equipment and the sensation of being underwater (while also taking in the stunning sights!).
If you're thinking about trying diving for the first time, or if you're an experienced diver looking for a new place to explore, Fiji is a perfect choice. Depending on your preferences, you can enjoy lagoon, wall, cavern, and wreck diving. But how do these differ?
Lagoon Diving – This is perfect for beginners as the water is calm and there is plenty of marine life to be seen. You can expect to see turtles, rays, and an abundance of colourful fish.
Wall Diving – As the name suggests, wall diving involves swimming along a vertical drop-off. This is an ideal option for experienced divers as it can be more challenging than lagoon diving.
Cavern Diving – Next, we have cavern diving which suits those who want to explore caves and rock formations. This type of diving can be more dangerous than the other two, so keep this in mind.
Wreck Diving – Lastly, wreck diving is perfect for those who want to explore sunken ships and other man-made objects. This is an advanced type of diving, so make sure you're confident in your diving ability.